Entrepreneurs build niche refurbishing dairy equipment
This article originally was posted by Marnie Schulenburg For the State Journal on Feb 11, 2017.  To see the article in it's original format please click here.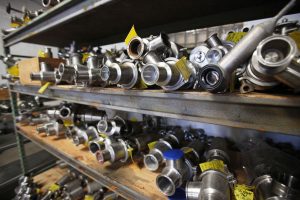 International Machinery Exchange in Deerfield found its niche buying, rebuilding and reselling used dairy equipment. Company executives from the left are: B.J. Holzapfel, vice president of operations, Russ Miller, engineer, Denise Mergen, owner, and Jeff Klemp, vice president of sales.
Part scavenger, broker, speculator and consultant. That describes the skill set Greg Mergen, president of International Machinery Exchange (IME) in Deerfield, has honed for nearly 40 years.
All of that knowledge, combined with attention to detail and a strong work ethic, has helped Greg and his wife, Denise Mergen, guide IME to become a leader in the used market for cheese factory equipment.
The Mergens founded IME in 1979 with three employees. Today, their physical plant generally runs at capacity and the workforce fluctuates between 17 and 24 people.
IME rebuilds machines to specifications of plants all over the world, designing complete systems for customers at a lower cost than new equipment.
Warranting and standing behind the work is critical, said Greg Mergen. At least half of IME's business is repeat customers, so its advertising budget, consequently, is tiny.
"If we can match machine specs to a customer's needs, the sale is made," Greg Mergen said. "There's no competition because of the savings to the customer."
By keeping abreast of new technology, IME reconditions some equipment to a level of performance superior to its original specifications.
Back in 1970, for example, drive systems on pumps were turned with a hand crank. IME would upgrade that to a push-button mechanism by installing PLCs or programmable logic controllers.
IME occupies warehouses and a manufacturing facility on 10 acres at 214 N. Main St. Among their Wisconsin customers include Sassy Cow Creamery in Columbus and Crave Brothers Farmstead Cheese in Waterloo.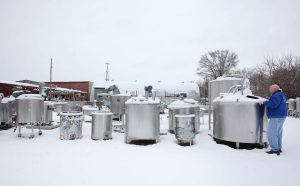 Greg Mergen graduated from UW-Madison with a food science degree, which has proved essential in helping him understand the food processing industry. Denise Mergen's degree in nutritional sciences was not applicable to the production side of the business, so she serves as the company's human resources manager and handles the insurance and bookkeeping.
Greg Mergen is on the road more than 40 weeks a year, buying used equipment and consulting with plant owners on facility modernization. He admits to enjoying "the thrill of the deal" — not unlike a stockbroker buying low and selling high, but instead of a stock, he's eyeballing a 35,000-pound cheese vat or a factory floor full of worn-out machines that may or may not be salvageable and salable.
Mergen took a chance on a mammoth stainless-steel cheese draining and matting belt system that occupied the footprint equivalent of half a volleyball court in the open-air yard near one of IME's warehouses. In refurbishing it for potential sale, IME spent three times what Mergen paid for it.
He knew a buyer eventually would be found for that piece of equipment, which sat for 15 years. Patience is a hallmark of the Mergens' company because the item recently was acquired and is being readied for delivery to a cheese plant in Mexico.
Mergen said that buyer in Mexico will likely save $1 million dollars on that piece of equipment versus buying something new.
"It's all about opportunities," he said.
Mergen recalled an on-the-spot cash offer years ago for an entire cheese factory in New London. Mergen was not planning on buying equipment that day but realized he could keep most of the machinery out of the landfill and turn a profit on the items that could be refurbished.
He was right, and his decision paid off six months later.
Mergen added, matter-of-factly, "I've had failures on that same level."
In most cases, Greg Mergen's winning instincts prevail, said Denise Mergen.
"He can smell stainless steel," she said.
Denise Mergen recalled how weekend family road trips sometimes would yield potential purchases. She said her husband would suddenly veer off to exit the interstate and say, "didn't you see that pile of stainless steel behind the building back there?"
Denise Mergen said her husband routinely found opportunities in what others may send to the scrap yard. Denise would dutifully record any road trip finds and Greg would later track down the owner, call to ask if the items were for sale and then commence negotiations.
"It's funny," Denise Mergen said. "I remember the deals we didn't get more than the ones we did."
The couple's children are now grown and are working in different professions.
The Mergens see room to grow the business but now in their mid-60s, they're content where the operation is today. The couple is working on a succession plan, which may include selling IME someday.
But for now, it's business as usual.
People touring IME will often remark about the company's vast amount of inventory. Greg Mergen's response, "I tell them, 'Yup, we have a whole yard full of something no one needs … today.'"